I captured some Ha on M82 last night. The subframes look great!
I did have a few issues with last night's session, however.
First, I kept encountering Voyager's insistence that the autoguider be calibrated when it should not be necessary. The scenario:
The session started uneventfully via a DragScript I use for a single target. PHD2 calibrated perfectly. The camera started capturing Ha light frames.
I realized I had not set camera's gain correctly for narrowband!
I paused the sequence and tried to change the camera setting. Unfortunately, the camera's gain cannot be changed with the camera connected. (Leo, can this behavior be modified to allow camera setting adjustment while the camera is connected, please?)
I aborted the sequence, disconnected all of the equipment, and changed my camera gain (I can't wait for individual connect/disconnect buttons–I'm glad you are working on this, Leo!).
I reconnected the equipment and tried running a modified version of the DragScript that did not include guider calibration (because I just calibrated it!) but the DragScript failed because Voyager thought the guider was not calibrated. The Goodnight action ran, resulting in the mount parking and the camera warming up.
Wiping away my tears, I ran my original DragScript with calibration. The calibration was not as good as the first but everything worked until the morning.
Total time lost: about 45 minutes.
Here is a screen shot showing proof of a calibrated auto guider in the status section and a simultaneous error about lack of guider calibration in the Monitor. Confusing.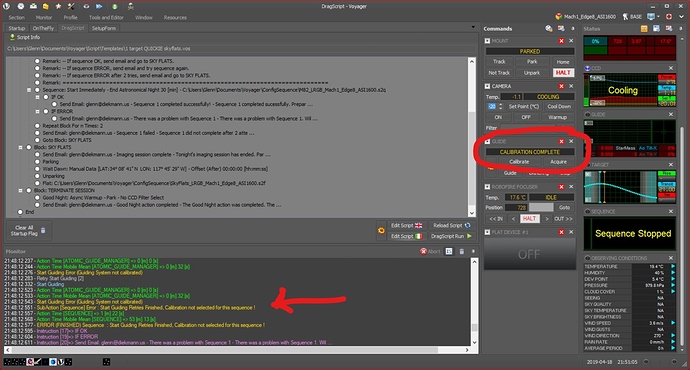 Leo, can you please please please remove the requirement for autoguider calibration? I admit that I stopped the original DragScript due to an error on my part, but recovering from that error was much harder than it should have been. In this case, I had a perfectly good calibration, but just because I had to disconnect and reconnect my equipment, the calibration was not recognized by Voyager. PHD2 will hold a calibration across multiple sessions, and if nothing has physically changed with the equipment, there is no need to redo a perfectly good calibration. Would you please consider removing the requirement for calibration with every run?
Thanks,
Glenn