Hey all,
I've been using voyager for roughly 6 months so far, and I love it a lot! Especially the telegram message support in dragscript, makes my life much easier to track the progress, without having to sit in front of my computer all night.
However, I also find that the capability / flexibility of the telegram bot is … a bit limited. So I wrote something with my friend Kun, and would like to share that with you all as well.
Our project can be found on github: https://github.com/sly9/VoyagerTelegramBot
This simple python program behaves as a standard web dashboard client, and it listens to all the updates it receives, including the new images and all kinds of logs and updates, then it forwards some important ones to telegram, so that you can get real time alerts.
Screenshots always explains it self better than words: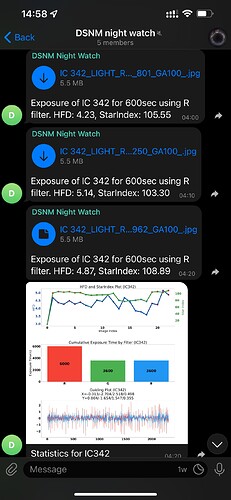 The major benefit of this bot is:
You don't have to keep your browser open all the time any more
It generates nice stats charts of for each sequence running in the drag script
It filters log messages, and only informs you about the critical ones
This project is still at early stage, and I hope you find it interesting and try it out

Any suggestions or pull requests are highly appreciated!
Best,
Liuyi