A fellow Voyager user (mikefulb on this forum) and I have been working on a project to further automate our imaging with Voyager.
We are taking somewhat different paths, but sharing code and ideas. It's a lot of fun and a testament to how extensible Voyager is.
My approach is to import ACP plans, since the planning tools I use, SkyTools 4 Imaging and CCD Navigator, both emit ACP plans for the night's run.
I am importing the ACP plans into a database, then building Voyager Sequence files (.s2q files) from the database.
Phase 1 of the project is to just use a DragScript to run the sequence files created from the ACP plans.
Phase 2 is to build a Scheduler, inspired by Bob Denny's brilliant ACP Scheduler (but very stripped down, at least at the start!). I will build a DragScript which does all my usual initialization (connect, cool down the camera, blind solve and sync, guider calibration), then goes into a "dispatch loop." The dispatch loop calls the Scheduler, which checks the database to see if there are any targets ready to image at that point in time. Ready to image is based on the targets altitude and a set of optional constraints like lunar separation, distance from the meridian, etc.
If there's something ready to image, the Scheduler will build a Voyager Sequence file and return to the DragScript with status indicating it is "ready to run." The DragScript will run the Sequence file, and when it is finished, call the Scheduler for the next job.
So far I have the import of simple ACP plans to a database working - it only parses the syntax of ACP plans emitted by Sky Tools 4 and CCD Navigator. Mike is building the class to read and write Voyager Sequence files. We will use Voyager to create a Sequence file initially, and just do simple XML manipulation to add filter slots or make small changes to the settings.
Here's a simple diagram of my version. Mike's is built using his own planner.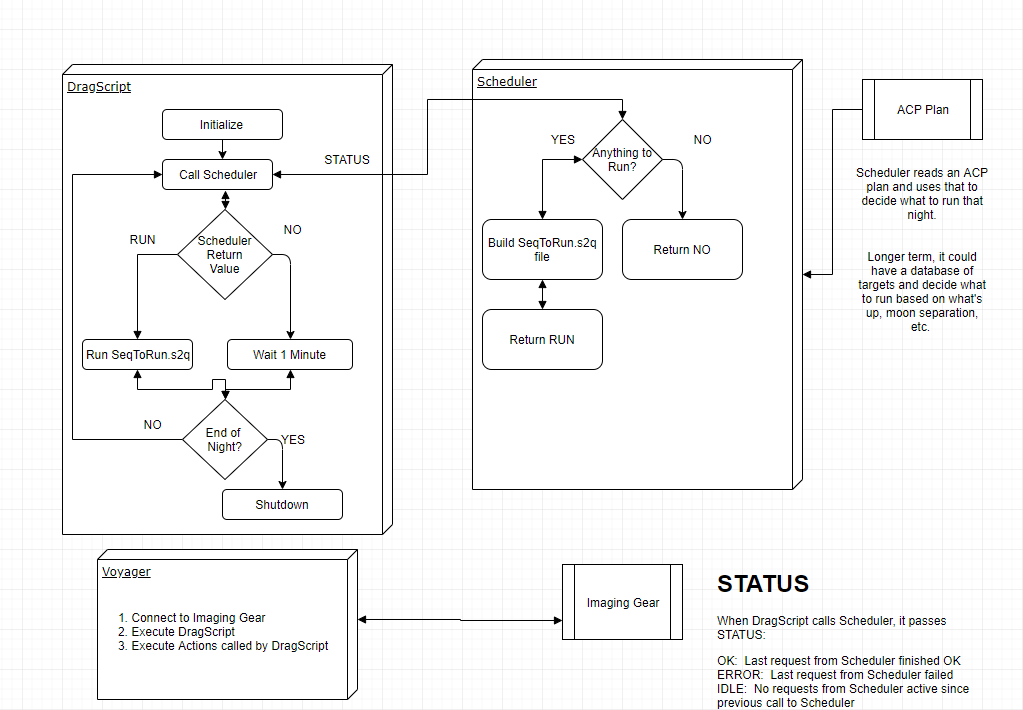 I'll keep this topic updated as we progress!
Cheers,
Rowland