I've been working on my Astroimaging Planner for a while now, but have detoured a bit into automatic image grading. While working on that, I have some functions that will extract the properties of each star in a subframe. These include FWHM, eccentricity, ellipsoid angle, local sky background, SNR, and other moment properties of the star shape. I'm interested in using that data to uncover more insights about my imaging systems. I've already found a lot of interesting effects with the almost 5k subs that I've stored over the years.
For my imaging rigs, I feel like some of them could be optimized, but it's all very ad-hoc. Tonight, I shared on CN an analysis frame of one of the Takahashi Epsilon 160EDs raw subs that was shared there (impressive scope!). This analysis uses some of the tools I'm writing. It bins stars into a resampled grid on the chip to determine bulk FWHM/eccentricity stats, etc. Here's the view of that plot showing what appears to be tilt. The red bars indicate the direction of the ellipticity, and the length is proportional to the ellipticity. The size of the dot at each grid site is proportional to the aggregated FWHM for that bin.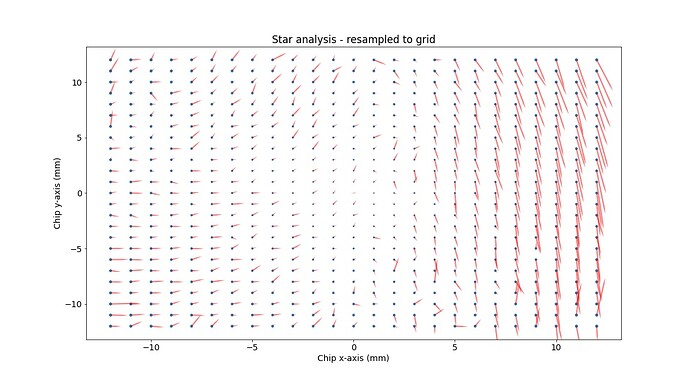 That got me thinking about some of the methods to determine the best spacing between a flattener and the chip. One is to inspect the radial/azimuthal direction of the ellipticity when the spacing is too short/long. Another that I heard recommended by Roland Christen is to focus on a star in the middle, then focus on a star at the edge of the frame. The relative difference between focus position indicates whether you need to increase/decrease the chip-flattener spacing.
So, naturally, I want to automate this and thought that Voyager's Dragscript would be the perfect partner for it. It's incredibly easy to setup a script for this with Voyager.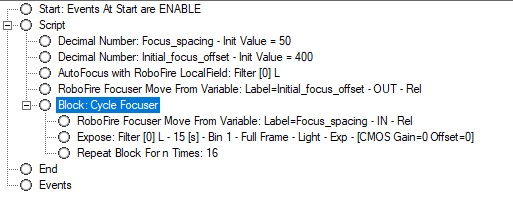 The plan, shown in this example, is to get 16 frames, spaced by 50 microns (set by hand to my specific system depending on CFZ, etc.), and inspect each binned FWHM/ellipticity/theta to see if the effect that can reliably be measured and implemented. In the end, I think this process should have an outcome of:
increase spacing by 0.8mm to address flattener/chip spacing issues
add spacing in the 60 degree direction by 0.1mm to address tilt in the imaging train
Winter in my area is notorious for bad weather for astronomy. I'm hoping to try this in the next few months to see if it'll work.