Dear All,
As per tradition Voyager always introduces new ideas in the world of Astrophotography. We are happy to announce the creation of the OpenSkyGems Communities Observatories Network

The first Open Network dedicated to private astronomical observatories, OpenSkyGems Network (OSG for short), was born from a collaboration between Voyager Astrophotography software and SkyGems Network. A fast and advanced way to share your observatory and astronomical system with other users around the world. We offer you the software and web infrastructure needed to get your system online via Voyager Advanced software and a dedicated plugin. We have developed a client called OSG that is installed on the PC that automates the observatory and that communicates directly with the OSG portal from which it receives imaging requests from network users. The system is based on a commission model. At the JOIN you will decide the commissions dedicated to OSG and the hourly cost of the system, the proceeds will be paid to you monthly.
You can decide whether to dedicate your observatory entirely to remote sharing or through the priority mechanism keep your targets active when there are no active image sets required by the network.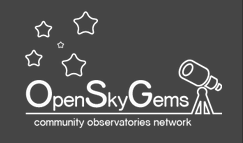 For who are interested the next daily build of Voyager will have the new section dedicated to this with the possibility to start Join the network.
Here the QuickStart guide about.
OSGQuickStart.pdf (1.3 MB)
Special thanks to SkyGems Team and Lukas Demetz for this wonderful collaboration.
For any questions i'm happy to answer here.
All the best
Leonardo Orazi