I recently switched to Voyager, and I must say, I am quite happy with my experience so far. This really seems like a well-designed application. I like how it lets you configure lots of detailed options, but the UI is tastefully done, so everything looks clean and organized. I also like the stream of log messages that let you see how things are progressing.
After learning it for a few days, I finally had it configured for my setup. I was using an ASI 183 camera, and got a couple of nights where I could start it off and get some sleep. Unfortunately, I started having some camera hardware issues yesterday (weird banding when the cooler is on). While I'm sorting that out, I thought I'd try using it tonight with my SBIG STF 8300 via TheSkyX. However, when I try to connect to TheSkyX, it fails to connect, with the following error: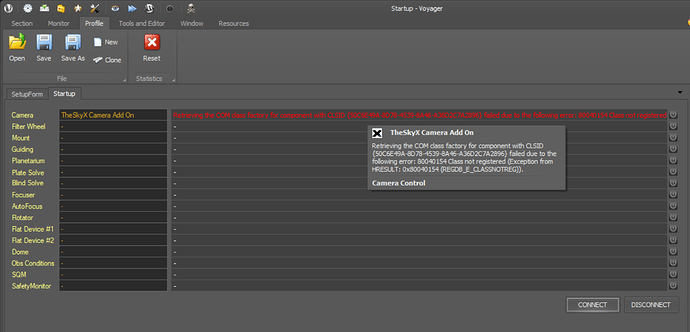 Has anyone seen this before? Not sure if I have something misconfigured… I am able to separately run TheSkyX and connect to the camera.
Clear Skies,