Ready to download the daily build 2.2.16d of Voyager:




It is always recommended to make a copy of the Voyager profile folder under Documents / Voyager / Profile
NEW => FITViewer -> The possibility of putting the window in always on top mode has been added to the settings
MOD => The list of controls available for each individual Setup component now appears in the configuration lists in alphabetical order (please do a copy of the profile folder of Voyager before proceed with installation of this Daily Build https://wiki.starkeeper.it/index.php/Installation#Voyager_Folders)
MOD => Adjustments in the management of Readoutmode and Flush of the native Driver for FLI cameras
BUG => Attempts to bring the Sky PA to the value indicated in the case of plate solving of the mount position outside the allowed error limit were erroneously counted, this could lead to the abortion of the Sequence



NEW => IMPORTANT! All the DLLs related to the various SDKs used by Voyager are now contained in a dedicated folder called platform to avoid possible conflicts with the use in sharing with other applications/libraries. The dedicated folder is under installation dir of Voyager, each brands have a dedicates folder with inside architecture 32/64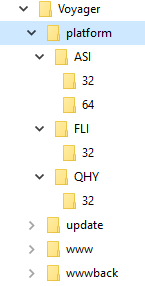 MOD => IMPORTANT! The online Voyager update management system has changed, now will be downloaded the installer instead of the zip file with update . Next Release will be 2.3.0 and auto-update will not work for this release, manual download will be necessary from our website (just and only for the 2.3.0 coming soon)
Daily Build is declared potentially unstable … download the last official release version to come back
Thanks to everyone have contributed to this daily build with their test and report.
All the best
Leonardo