this version will be ready olso for array?
In a second time during the beta campaign.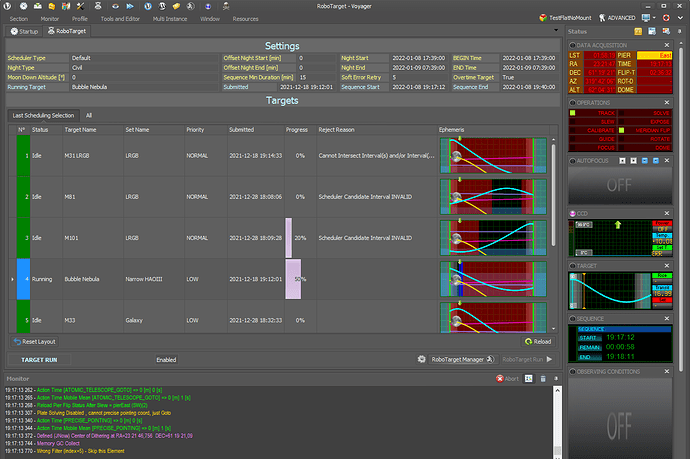 Minimum tools required are finished … so adding some features to the manager and we are ready for start campaign.
YES!!!
Great way to start 2022!
Oh yes! Brilliant!
Can't wait to start using this!
Hopefully ready come my imaging season (in a month or 2). Enjoying and blessed with a great rainy season here in South Africa currently.
Thanks Leo for evolving Voyager further to the most stable, reliable and now intelligent imaging software in the galaxy!
Here's to a great 2022!

This looks brilliant, Leo!
During the tests we found an excellent increase in data quality and productivity with the use of the scheduler. This is a Rosette Nebula made in the last 3 days in complete autonomy, HA filter 40sub of 600s QHY294MM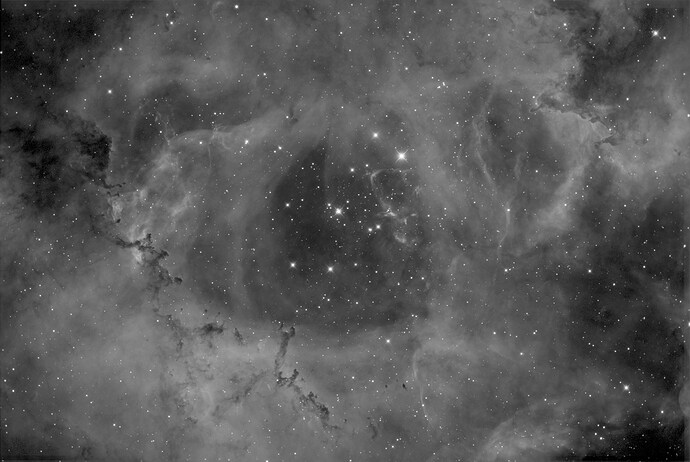 Very nice Leo! This is an exciting move forward for Voyager

!
Cheers,
Rowland
Awesome news. Cant wait to try it.
Jon
This is really great!! As always Leonardo is delivering. Voyager has been the only part of my imaging system that has never given me any problem…and now it just got better!!
Jose
RoboTarget Manager now work in remote with a VPN or public IP address, with username/password and secret shared RoboTarget key configurable under dynamic encryption: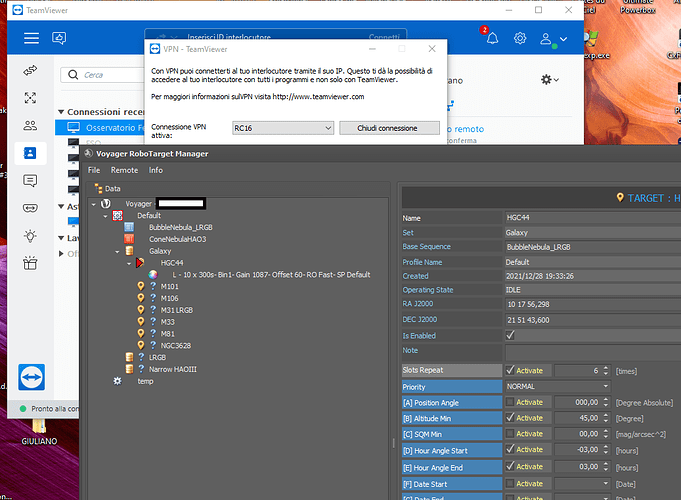 Really fun the teamiviewer VPN. We are at last adjustments on tools.
It just keeps getting better!
Leo, to be clear that means that Robo target is running your home PC controlling the remote observatory. Cool!!.
Tip: also interesting is to look in zerotier to access the remote observatory. I Love that one. I have it even on my Synology. So with drive mapping on my remote PC, I sync directly 'after capturing' the picture to my home nas.
Hi Chris,
really interesting the zerotier … if you have time please produce a PDF with instruction on how to implement for reaching Voyager running in observatory from home. Will be a gift for you. PM me if you need.
All the best
Leonardo
Being able to use the RoboTarget Manager remotely will be super useful!
I use ZeroTier as well - works really well. Additionally you can also run zeronsd on your telescope/observatory computer along with the ZeroTier client and it'll become accessible via a (fake) domain name, e.g. "my . telescope . com", within the zerotier network, so you don't even need to remember an IP address

Hi Samuel,
i forward to you what I wrote to Chris
All the best
Leonardo
Leo, I write something on paper, I send it to you first for review

Chris
Leo,
Interesting you want for Ha on a galaxy in context of full moon. Currently over Spain, clear skies and very good seeing so as you would expect FULL MOON ! In my experience in dark skies, it is a waste of time to image with moon illumination over 80/85% if your angular distance to the moon is more than 60 degrees, even if you use as I do 3nm narrowband filters. Yes, you will get frames but the detail is much poorer vs frames taken with less moon illumination.
In fact my general formula is :
narrowband. Stop at 80%. Image at angular distance at least X1 moon illumination.
broadband. Stop at 70%. Image at angular distance at least X2 moon illumination.
The exception to that is probably Ha where the detail matters less as when you are capturing Ha for a galaxy which takes us back to M101…
It will be interesting to see how RobotTarget Manager works. I plan to be a big user having captured 700 hours in the last 7 months.