Hi. Got my first run whit voyager. It was quite a voyage! ;)…
Started whit configuring focus whit first light wizard. After I upped my MIN flux to 200 and MAX flux to 1000 it went trough; Here is screen shot of my setting and what numbers I got: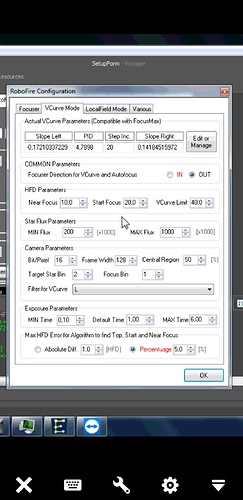 Here is the v-curve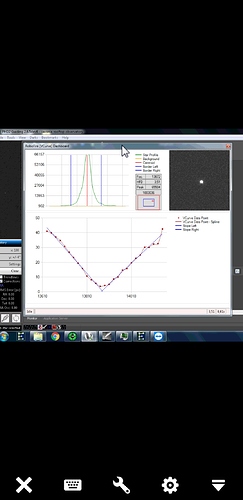 I had little trouble whit the plate solve, but after I installed the 2.0.13 it went trough smoothly.
I did some test shots after that whit L filter. I did local field focus It looked like this: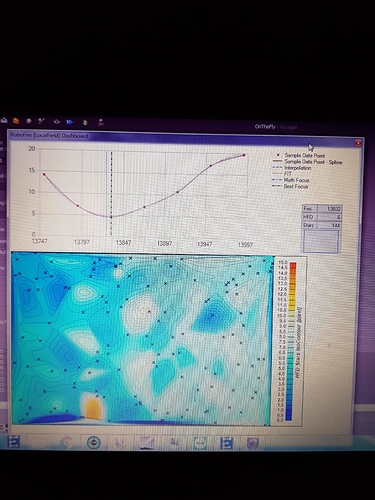 Then I thought I was ready to start capturing. I try'ed to set focus for HA filter but I did not succeed on that. I figured I need to use the first light wizard to HA filter, but that was mistake. After I try'ed to do the first light wizard to HA filter, I lost focus. Without preview in voyager I had to use ASICAP software to find focus, but I end up whit split frame of the image in ASICAP. I had to close voyager and ASICAP. Then I looked for fairly close focus in ASICAP to get the first light wizard to work whit VOYAGER, but I was not able to get the first light wizard to work whit L filter. It found the star but could not get v-curve for some reason. I changed the setting but it did not help.
Can you help me =).
There was few problem's I saw:
Voyager shuts down PHD guiding when focusing. I think whit narrowband filters would be good to guide when you take focus image.

Too many parameters for me not working whit automated software before.

I had 2 crash and always after crash I need to start the EQMOD, PHD and CDC again so VOYAGER can connect to them.

The lack of preview is major loss for me. Like when you are trouble solving it really helps to see the images inside the program.

The first light wizard should be able to configure on all filters, not only one filter.

I am blind solving the program as there is no English manual, I understand its soon ready but its something we really need.
My gear; eq6, SW esprit 80 and ASI 183.
Computer: I5 laptop whit 6gt ram-memory, freshly installed windows 7 64-bit.