I'm running version 2.1.7a, executing a sequence started from the on the fly tab.
I have a one line sequence with gain set to 200 and offset set to 50 (using ZWO Native driver). I noticed that some of my subs had a lower ADU than expected. When I looked at the FITS header I saw that the first sub captured had the correct gain but subsequence subs had a gain of 75. When I aborted the sequence and restarted it, the first sub had the right gain but the rest again had the gain set back to 75.
This is also seen in the filenames:
First file: sh2-157_LIGHT_Ha_180s_BIN1_-10C_001_20190812_004806_721_GA_200_OF_50_W
Second file: sh2-157_LIGHT_Ha_180s_BIN1_-10C_002_20190812_005137_401_W
Is there a setting somewhere that is causing this?
Is there any data I can provide to help figure this out?
Thank you,
Nathan
Here is a screenshot of the sequence.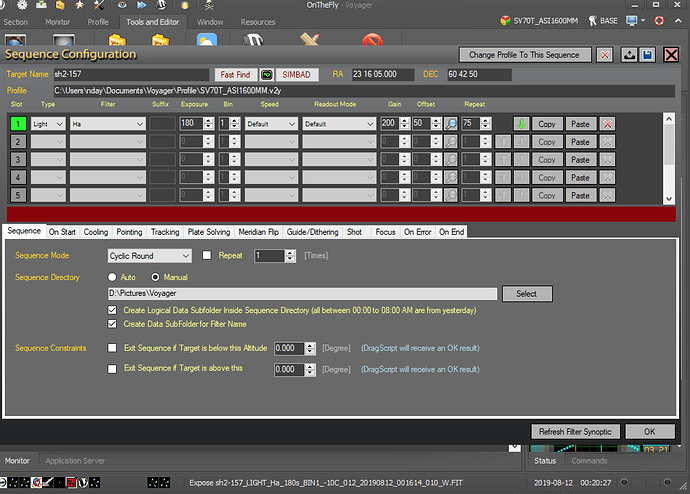 Screen Shot 2019-08-12 at 12.20.21 AM.png