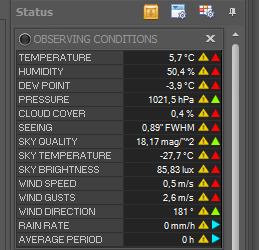 LIke in subject the observing conditions and SQM reader are ready to be released in Voyager.
I'll wait the FIT header name to add in saved files.
Please remember to renewal the support and update service for Voyager if expired !


Come da oggetto le condizioni d'osservazione e l'SQM reader sono pronti per essere rilasciati in una nuova release di Voyager.
Ricordatevi di rinnovare il servizio di supporto e aggiornamento per Voyager se è scaduto !
All the best
LO