The imaging portion of my session yesterday ended uneventfully. I got lots of usable data.
However, when the sky flats sequence began, I started to get out-of-memory errors from my ZWO ASCOM camera driver (I have an ASI1600MM-cool). The sequence failed and the DragScript proceeded to the Good Night portion of the script. I caught this after the DragScript hand ended but before the camera had completely warmed up.
I ran a second DragScript just for dawn sky flats, which includes a camera cool-down command. For some reason, the camera continued to warm, and I could verify this by looking in the CCD status widget. Despite this, the CAMERA command widget reported "COOLED" at +9.7C (see screen shot). And at that point, Voyager began taking sky flats with an un-cooled camera.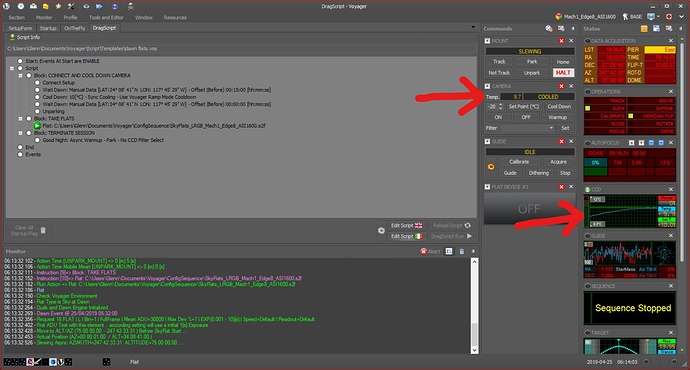 Did I approach this the wrong way, or might this be a bug?
Kind regards,
Glenn