Thanks to Jaime Alemany from Lunatico Astronomía, S.L. for sending to us the DragonFly system for development.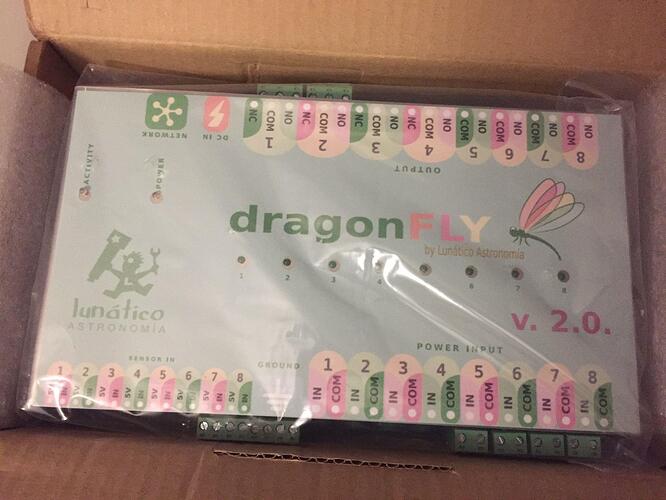 Thank you Jaime.
Leonardo
This is great news. I personally, and all my astro friends love Jaime's products and his incredible cusotmer service, looking forward to even more amazing integration with Voyager and Viking.
Paul , Viking have integration with DragonFly and FireFly since 5 years (we are the fist to do)… we just check the ASCOM connection because they have changed something in the latest versions.
Hi Leonardo,
Great to see that you've received the Dragonfly from Jaime. I've nothing but praise for Lunatico. Their products and customer service are superb IMHO.
I'm just starting to use Voyager and would like to use to Viking to talk to my Dragonfly. I downloaded the Viking trial and could connect to the DF using COM (but not Ascom). Unfortunately, that was all I could do. I assume that there is a problem regarding the password. I use version 6.02 of the DF software and I couldn't see any option to enter a password in Viking. Am I missing something?
I also tried running the Dragonfly .vbs scripts form Dragscript and receive an error (Code 91) from the DF software. The scripts work fine when run directly from Windows. Should I be able to run .vbs files directly from Voyager?
Many thanks as always.
Andy
Hi Andy,
Jaime is number one. COM or ASCOM is equal Andy work in anycase. Be sure to use for first Voyager or in ASCOM will not connect if you have used for first time another application.
You can run vbs from DragScript, error inside Vbs is something you must check on the Script. Voyager just lunch it. Environment can be different be sure you have access to directory and folder needed by script.
All the best
Leonardo