About a week late for Valentine's day, but here's my latest image of the Heart Nebula. I finally got around to processing it and dealing with some issues I was having in the SII channel related to the QHY driver I was using.
This one was taken with my new Stowaway over the course of several nights October and November of last year. I'm continually impressed with the edge of frame performance this Stowaway with its tele-compressor has. Of course, the sharp focus that Voyager gives helps make this shot sharp.
Description:
The Heart Nebula, IC1805, lies around 7500 ly distant in the constellation Cassiopeia. This emission nebulae is riddled with dark dust lanes within ionized hydrogen gas. In this wide-field view of the Heart nebula, the open cluster Melotte 15 contains several bright stars that are up to 50 times more massive than our sun is located near center. The intense radiation from these stars drive the output of this emission nebula. The Fish-head nebula is in the upper right. Riddled throughout the frame are filaments of dark nebulae.
Details:
Scope: Astro-Physics Stowaway 92mm @ f/5.3
Reducer: Astro-Physics 0.8x TCC
Camera: QHY16200A
Guide Camera: ZWO Optical ASI174MM
Mount: Mach 1 GTO
Ha: 14x15min
OIII: 12x15min
SII: 10x15min
Total exposure: 9 hours
Software: Voyager, PHD2, APCC, Pixinsight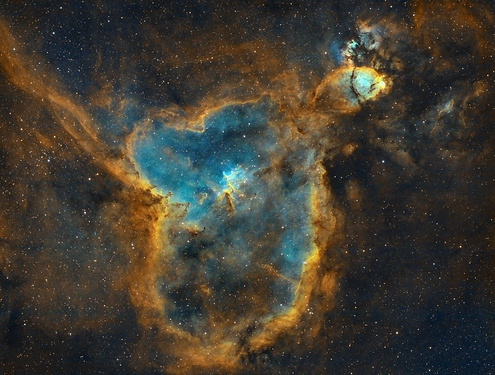 Astrobin link for more details: