Here's my latest image of the region near NGC7822. This was a longer than normal mosaic project that took me quite a bit longer to process due to having to relearn how to do mosaics in Pixinsight, and the large file sizes of the ASI6200 - about 12GB total of subframes. These large sizes caused PI to crash a few times and even required me to restart the computer due to a memory issue. I think all the trouble to get this image was worth it in the end though.
Framing the mosaic was super easy with Voyager's dashboard

. It ran the show for four nights, happily capturing all the subframes I needed.
Because this is a mosaic, the final image is pretty big, at around 8100x11000, so there's a lot of extra detail to be seen by zooming in. Be sure to check out the astrobin link below where I show various crops of this region.
Description:
This region near the border of Cassiopeia and Cepheus begs a question. What it is, I'm not sure, but thought it was an interesting combination of nebulosity. At its core is NGC7822, a young star forming region that lies some 2900 light years away. This region has one of the hottest known close stars with a surface temperature of 45000K and luminosity at around 100000 times that of our Sun.
Near the bottom, punctuating this region, is Sh2-170, a small emission nebula often labeled as the Little Rosette Nebula. It lies some 7500 light years away, more distant than the foreground star forming region of NGC7822.
Details:
Scope: Astro-Physics 92mm Stowaway @f/5.3
Reducer: Astro-Physics 0.8x telecompressor
Camera: ASI6200MM Pro
Guide Camera: ASI174MM Mini
Mount: Mach1 GTO
SII: 29x15min
Ha: 27x15min
OIII: 36x5min total
Software: Voyager, PHD2, APCC, Pixinsight
23 hrs total exposure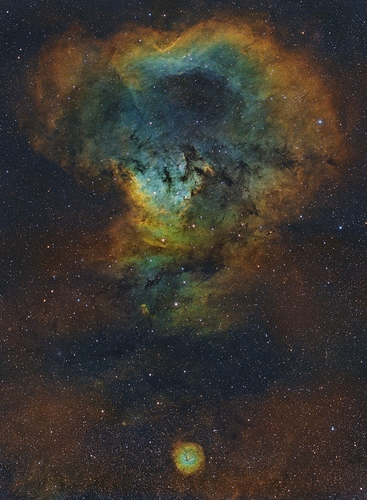 Astrobin for more details: