Hi Leonardo,
Since I finished upgrading my dome encoder, the nightly robotic operation of the observatory under Voyager control has been phenomenal - I have a 14" OTA with a slit not much wider than that, and the dome-telescope pointing has been spot on all night, before and after meridian flip. It's a glorious thing to watch…
I have a 6" apo, and the hardware for side-by-side mounting of the OTAs, which I used to do in my old roll-off-roof observatory. But I've not tried this in the dome yet.
My question is: does the GEM Axis Offset parameter in Voyager allow to account for the effects of side-by-side setups? I saw how that setting was used to adjust he dome-OTA relationship for a single OTA - as the Voyager manual advises, I used trial and error to dial that in and it works beautifully. But with a side-by-side arrangement with two relatively large OTA's like this, neither 'scope sits directly over the RA-Dec axis intersection and there are now components of offset in two directions.
You can get a sense of the geometry in the attached pictures from my ROR days…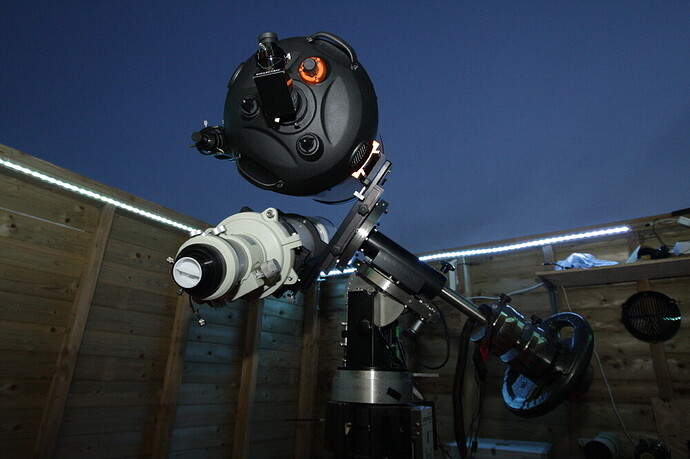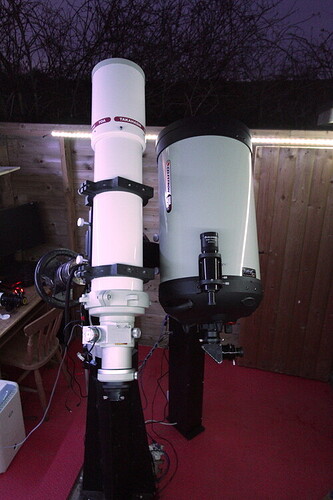 I don't intend to image simultaneously - only one 'scope will be used at a time. But I need to find a way of accounting for that separation of OTAs, because the dome slit position is significantly different for the two instruments. I assume I'd save 2 profiles with different dome settings in Voyager and select appropriately. If I understand correctly, Azimuth Offset won't help here because that's a constant offset irrespective of 'scope position. Whereas in the situation I describe, the correction will vary according to pointing location.
I hope that makes sense. I guess I could "try it and see", but it's a beast of a mounting exercise, so I wanted to check first to see if this is possible in Voyager. If not, I'll stick to one OTA at a time!
Thanks
Nigel