Congrats Francesco and Leo! Voyager 2.2.0 loaded on both piers, DragScript started from the web dashboard, waiting for dusk…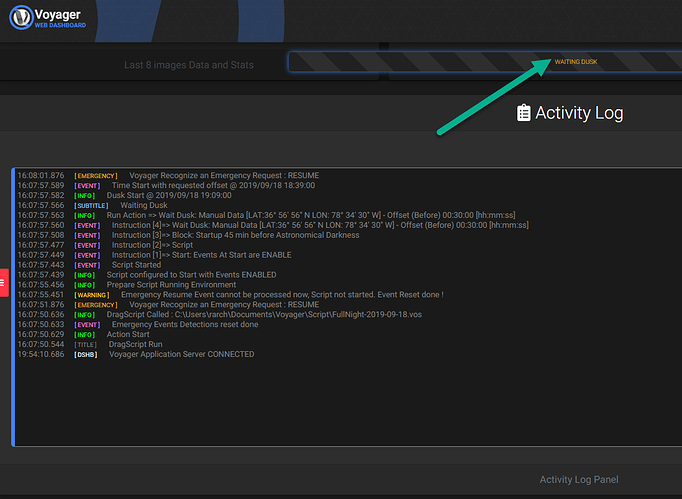 Is there a way to stop the animation in the upper left corner? It's hypnotizing me

!


Thanks,
Rowland
Sorry Rowland, I think Francesco when read this can do something.
All the best
LO
Hi Rowland,
the logo animation, the status bar and the mouse pointer in progress are activated by Voyager "Running status", and tell to user that needs to wait the action complete and "Idle status" before send other commands.
In this "status" the command button are temporarily disabled, but some buttons remain enabled, like emergency and abort button, or action like "Search" and "Get Sequence list" and so on.
In future we could set an option for enable or disable logo animation, however, it is also useful imho.
Hope you enjoy the dashboard.
Thanks,
Francesco
Where can I find the instruction to setup and run the dash board?
Dashboard is online , instructions about are here:
http://www.starkeeper.it/wdashinfo/
Its only a beta … official doc about will be released with the first release.
If you have some questions you are welcome to write in a post in this section of forum
LO
Thank you Leo.
Very fast response, less than 5 minutes.
Thanks Francesco. Overall it looks great, super work!
I understand the spinning wheel is meant to explain status - and I don't want to make too much of it because it is .00001% of something at looks 99.9999% fantastic

An option to disable the spinning wheel would be appreciated. I guess it will go away once my sequence is running?
For my taste, the "waiting dusk" status is enough.


I have it running on two piers so I'll let you know how it went tomorrow.
Thanks again!
Cheers,
Rowland
Thank you too!
Wish you collect good data.
can't wait to hear from you tomorrow.
Regards
Francesco