A new version of Web Dashboard is ready to use online and on Voyager 2.2.7 internal web server.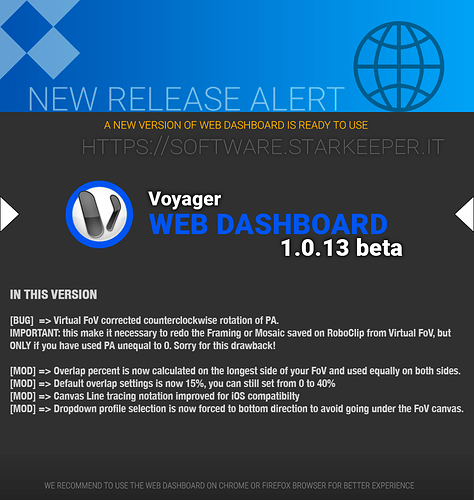 In this version:
[BUG] => Corrected counterclockwise rotation of PA.
IMPORTANT: this make it necessary to redo the Framing or Mosaic saved on RoboClip from Virtual FoV, but ONLY if you have used PA unequal to 0. Sorry for this drawback.
[MOD] => Overlap percent is now calculated on the longest side of your FoV and used equally on both sides.
[MOD] => Default overlap settings is now 15%, you can still set from 0 to 40%
[MOD] => Canvas Line tracing notation improved for iOS compatibilty
[MOD] => Dropdown profile selection is now forced to bottom direction to avoid going under the FoV canvas.
WebDashboard 1.0.13 beta is available here:
http://www.starkeeper.it/wdash/?1013