A new version of Web Dashboard is ready to use online and on Voyager 2.2.14 internal web server.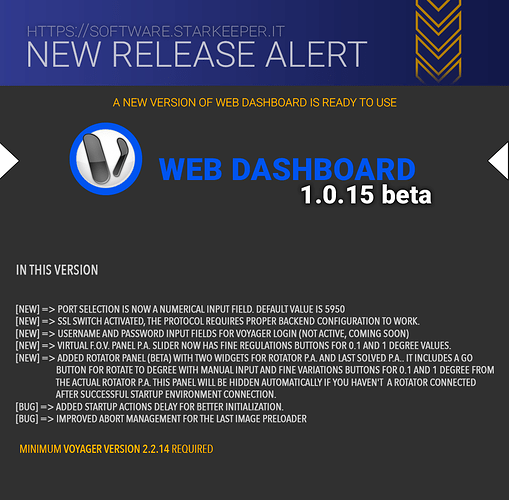 One of the main add of this version is the Rotator Panel. It shows two widgets for Rotator P.A. and Last Solved P.A… You can also send "Go" remote rotation command with degree input or fine movement buttons from the actual Rotator P.A.
This panels will auto hide if you don't have a Rotator connected into your environment setup connection.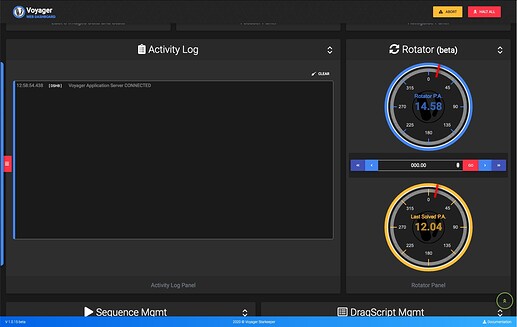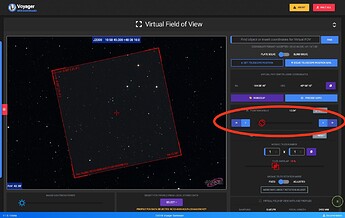 In this version:
[NEW] => Port selection is now a numerical input field. Default value is 5950
[NEW] => SSL switch activated, the protocol requires proper backend configuration to work.
[NEW] => Username and Password input fields for Voyager Login (not active, coming soon)
[NEW] => Virtual F.O.V. panel P.A. slider now has fine regulations buttons for 0.1 and 1 degree values.
[NEW] => Added Rotator Panel (beta) with two widgets for Rotator P.A. and Last Solved P.A… It includes a Go button for Rotate to degree with manual input and fine variations buttons for 0.1 and 1 degree from he actual Rotator P.A. This panel will be hidden automatically if you haven't a rotator connected after successful Startup Environment connection.
[BUG] => Added startup actions delay for better initialization.
[BUG] => improved abort management for the last image preloader
This version requires Voyager 2.2.14