I am trying to image two targets with specific start and end altitudes, due to the topography of my back yard.
I would like Sequence 1 to start at 30 degrees in the east and stop at 60 degrees in the west.
Next, I would like to start Sequence 2 immediately and stop at 45 degrees in the west.
Can this be done with the DO IF ALTITUDE BETWEEN action in a DragScript?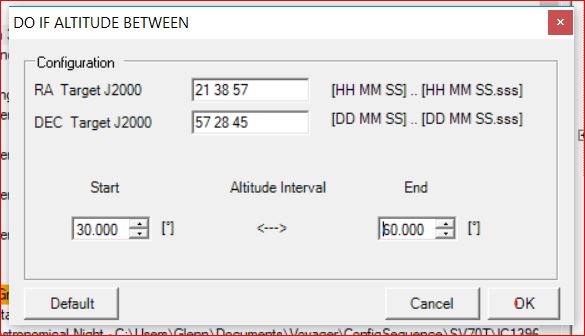 My concern is that Sequence 1 would only run from 30 degrees to 60 degrees altitude on the east side of the meridian instead of crossing the meridian and stopping at 60 degrees on the west side, as I intend.
Other threads have discussed similar things, but I am not aware of a resolution. Has anyone else figured out how to address this situation?
Kind regards,
Glenn