Hi Leo and everyone else,
I hope this is the right category for my (first) post. I've heard good things about Voyager and want to try it with my equipment which consists of:
Mount: Paramount MX+
Telescope: GSO RC14
Camera: SBIG STT-3200ME with in-built filter wheel and off-axis guider
Focuser/Rotator: Optec Gemini
Software: TheSkyX with camera add on
I'm running Voyager 2.1.7a Build 2019-08-05 in demo mode on a new laptop (Win10 Home edition). When I get it set up properly I'll change to trial mode. However I can't get Voyager to start TSX automatically when I try to connect, see screen capture: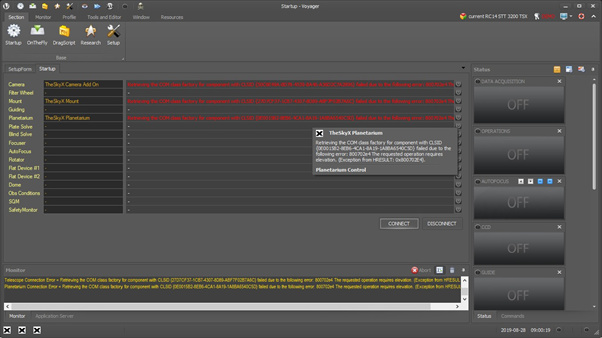 The "Listen for connections" check box is ticked in the TSX TCP Server window.
Both TSX and Voyager have been set to run as administrator, and both programs have been run in that mode several times.
TheSkyX.exe and Voyager2.exe have both been added to the Windows Defender Firewall allowed list. I've even turned the firewall off.
If TSX is already open (but not connected to the equipment) then Voyager seems to connect ok.
Can someone suggest where I have made a mistake? Cheers,
Mark